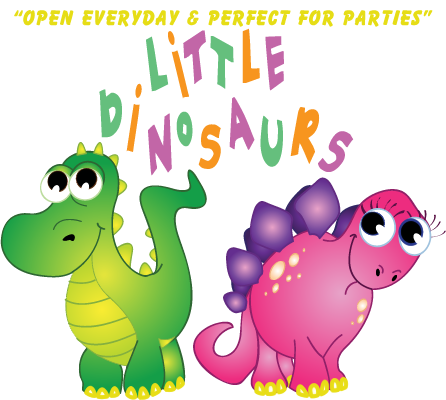 The Rules!
This is a parent supervised facility:
Please note all our staff have been checked by the Criminal Record's Bureau and where relevant are trained in Food Hygiene and Health and Safety.
Whilst we have attempted make it as safe as possible , the very nature of children's play activity means that accident's can occasionally happen.
Parental Supervision is essential at all times in all area's of the premises (Indoor & outdoor).
For everyone's safety and comfort and so you get the most out of your Little Dinosaur experience all guests must follow the Rules of Play: -
1. Parents & Guardians must supervise children using this play facility at all times.
2. The Garden - We are a parent supervised facility (Inside & Outside) You must supervise your children at all times in the garden and especially on the Bouncy Castle.
3. Staff will monitor the equipment but are not provided to supervise your children using the facilities. Little Dinosaurs cannot be held responsible for accidents that occur as a result of playing on the equipment.
4. Children who are unwell must not use the facilities.
5. Socks or tights must be worn at all times.
6. We recommend that long sleeves & trousers are worn on the play equipment.
7. No food, drinks, sweets or chewing gum are to be taken into the play areas.
8. Smoking is not permitted on the premises.
9. Pens, buckles, jewellery, watches, money, sharp objects etc must not be taken into the play area.
10. Please ensure that all valuables/personal belongings are kept on you at all times. Little Dinosaurs cannot be held responsible for any loss of damage.
11. Children must not be allowed to climb up the slides.
12. Little Dinosaurs Management reserve the right to alter times, prices, menu's and equipment without prior notification.
13. Please inform us if your child has any sort of accident, however, minor – one of our trained first aid team should take a look.